Our dynamic, young leaders who make up the Amigo Nutrition advisory board are all passionate about making the world a better place and improving nutritional outcomes for all children.
These emerging leaders, all share a significant moral compass; have a deep understanding of the importance of healthy food for children, and are passionate about giving back to our communities so that all children, everywhere may thrive through good nutrition.
The Amigo Nutrition advisory board is putting the power to make better decisions about healthy food options for kids that are good for our planet and our people in the hands of the kids. The Amigo Nutrition advisory board are encouraged to think creatively around product development, brand marketing, and giving back to their fellow amigos who go to school hungry. Children are our future. These bright young minds have the best understanding of their nutrition needs, how to address them and how to build momentum among their peers for better, healthy outcomes.
Meet our Amigo Nutrition advisory board!
Danica Madeira
A serial creative entrepreneur
Harrison 'Fox' Maxwell
An advocate against the use of palm oil used in our foods and the high level of sugar in kids foods
Scarlett Davies
An exceptional baker, cook and entrepreneur
Gabriel Lindsay
Conscious about maintaining a balanced diet and likely to be influenced by his dad from 'What's Cooking'
Mila Hrstic
Passionate advocate about healthy eating
Lily Cowen
Not afraid to stand up for the rights of those less fortunate
Isla Penberthy
Member of 'Chefs for Compassion', helping families who need help to overcome life's setbacks
Zambessi Butler
Explores her passion for the environment through cooking, growing food and writing
Niko & Stavro
These twin brother are aficionados in science and technology who also enjoy cooking, eating healthy food and gardening.
Want to be part of the Amigo Nutrition advisory board?
We'd love to hear from you! Send us a message and tell us a little bit about yourself. Remember to outline why you think you'd be a great addition to the Amigo Nutrition advisory board, you might just be!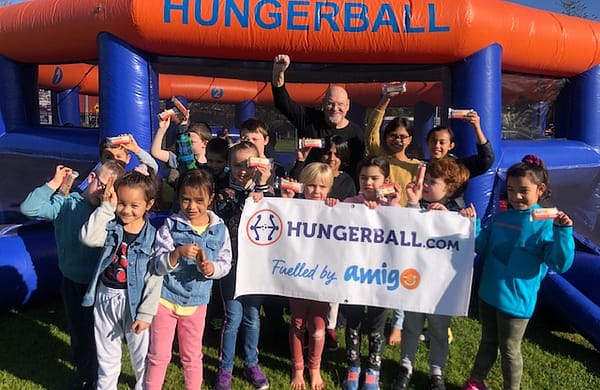 Hungerball New Zealand  and The Sir Ray Avery Foundation have joined forces to promote the importance of good nutrition and physical exercise for …