A Message from Sir Ray Avery
"From the moment a baby is born it seeks sustenance from its mother. Food sustains life and is the beginning of everything maintaining our physiological and mental wellbeing.
I grew up in post war Britain. Food was scarce but every day in the orphanages, I was sent off to school with a breakfast of porridge and a spoonful of cod liver oil. At school, I received a bottle of milk and a free school lunch. Sadly, twenty percent of New Zealand's school children go to school hungry, and many more do not have diets which provide the necessary vitamins, minerals and amino acids to support healthy growth and brain development.
I cant fix the underlying causes of poverty in New Zealand, but the supplemented food amigo bars can make a world of difference to Kiwi kids who go to school hungry and help grow great New Zealanders."
Sir Ray Avery GNZM
Grande Amigo

There has been an overwhelming number of requests from schools requesting us to supply Amigo Bars to children in need.
"My name is Sally and I am in charge of school lunches. We have about 20 children who come to school daily without lunch and they would benefit from these delicious, healthy Amigo Bars."
"We have a growing number of children who live in poverty and come to school without adequate food to sustain them through the school day. I would love to receive 80 Amigo Bars a week; it would be a great start for us."
"We would appreciate 50 Amigo Bars a week as we have families who struggle to feed their children everyday."
We know that many New Zealand children go to school hungry everyday, and many more have diets deficient in essential amino acids, vitamins and minerals. New Zealand children's high protein, sugar and fat-rich diets mean that we have a high level of obese school children who are suffering from vitamin and mineral malnutrition.
Being hungry is not just a physiological problem, it's also a precursor to mental health problems.
Numerous studies in New Zealand and overseas have demonstrated a link between poor nutrition and learning and have shown the benefits of restoring nutrition to the appropriate level. Clinical studies have shown that children's mood, cognitive and memory skills are compromised if they don't have the correct level of amino acids to support healthy development. Every parent knows that if their children are hungry, they get 'hangry'.
However, it's very difficult to deliver the optimum nutritional meal, balanced 'en mass' at an economically sustainable price. Nutritionally balanced meals should comprise of a mixture of portions of fruit, carbohydrates, fibre and low-fat proteins which contain all the amino acids, vitamins and minerals to promote healthy growth and development. Two of the hidden problems facing parents is that children don't like healthy foods, and the foods they like are often nutritionally limited. Not only this, It's also strategically impossible to supply children with school lunches during the school holidays.
What was needed was a
long shelf life ready-to-eat, affordable,

supplemented food bar that made up the nutritional deficiencies in the diets of New Zealand school children.
After years of customer acceptance testing, we produced the Amigo Bar – which is New Zealand's first healthy, five star rated supplementary food, specifically formulated for children between the ages of 4 and 14. The Amigo Bar contains all the amino acids, vitamins and minerals to support healthy development. We spent a whole lot of time engaging with hundreds of school children, getting their input at every stage of development of Amigo Bars. We are confident that the Amigo Bars will turn hangry

faces into happy

faces and help grow great New Zealanders. Through the generosity of the Ted Manson Foundation, we have been able to launch the Amigo Bar School Nutrition Program to provide amigo bars to selected schools in Auckland together with educational material to improve awareness of good nutrition choices. We have partnered with Eat My Lunch, who currently provide lunches to more than 80 Schools in Auckland and Wellington.
Eat My Lunch will help distribute the Amigo Bar School Nutrition Packs to kids for the school holidays.
The Amigo Bar is a practical and cost-effective addition to addressing poor nutrition evident in New Zealand school children and allow our kids to be all that they can.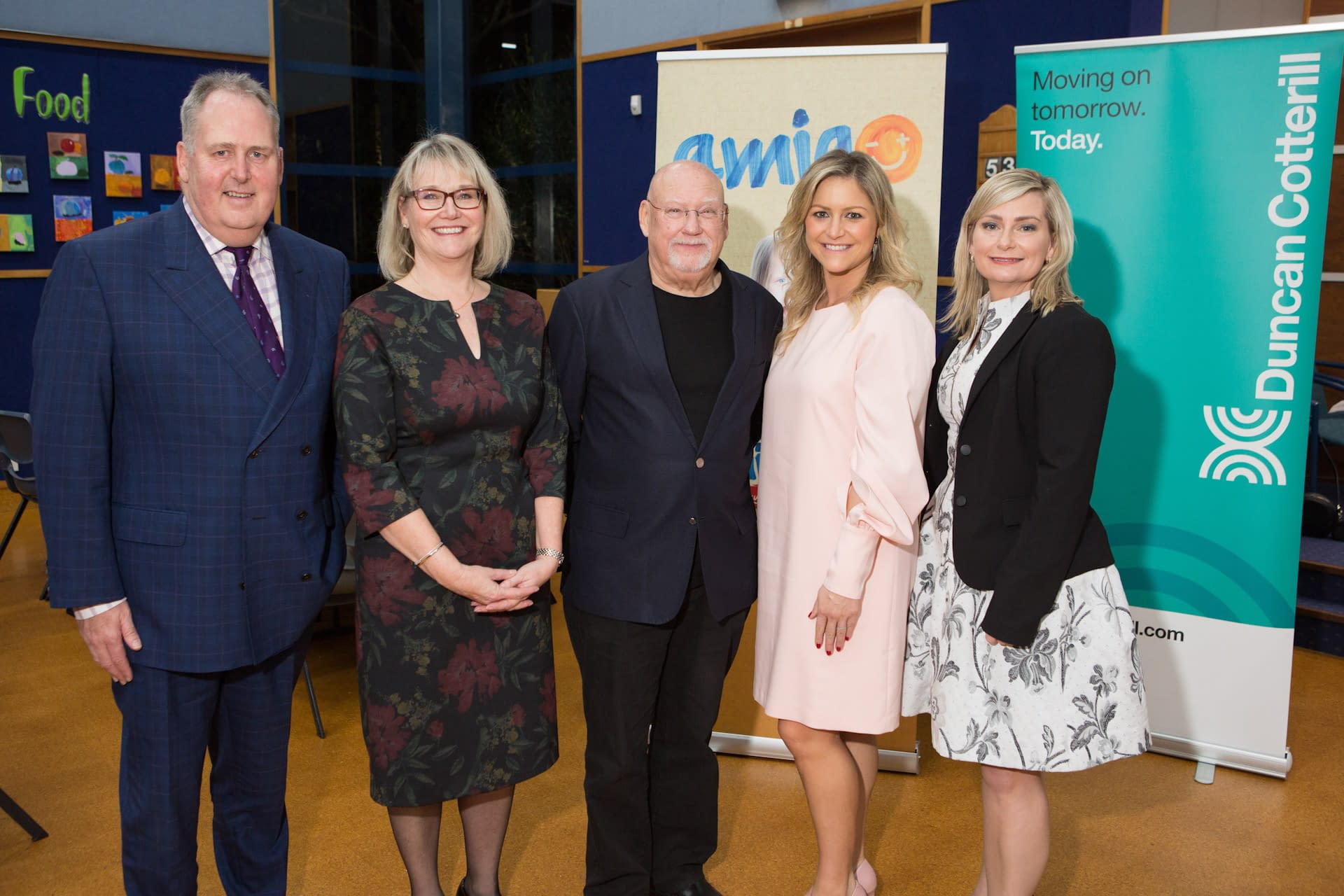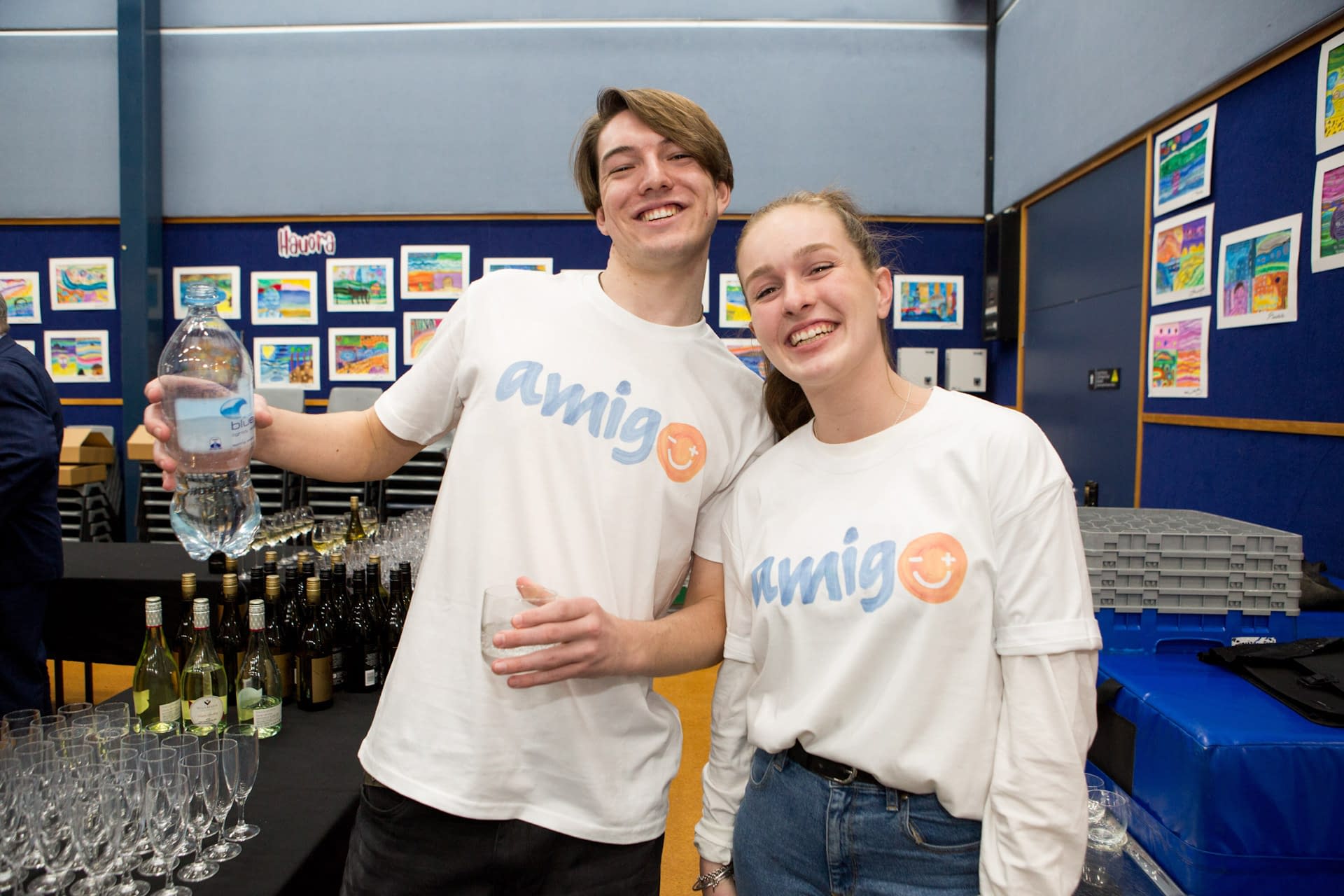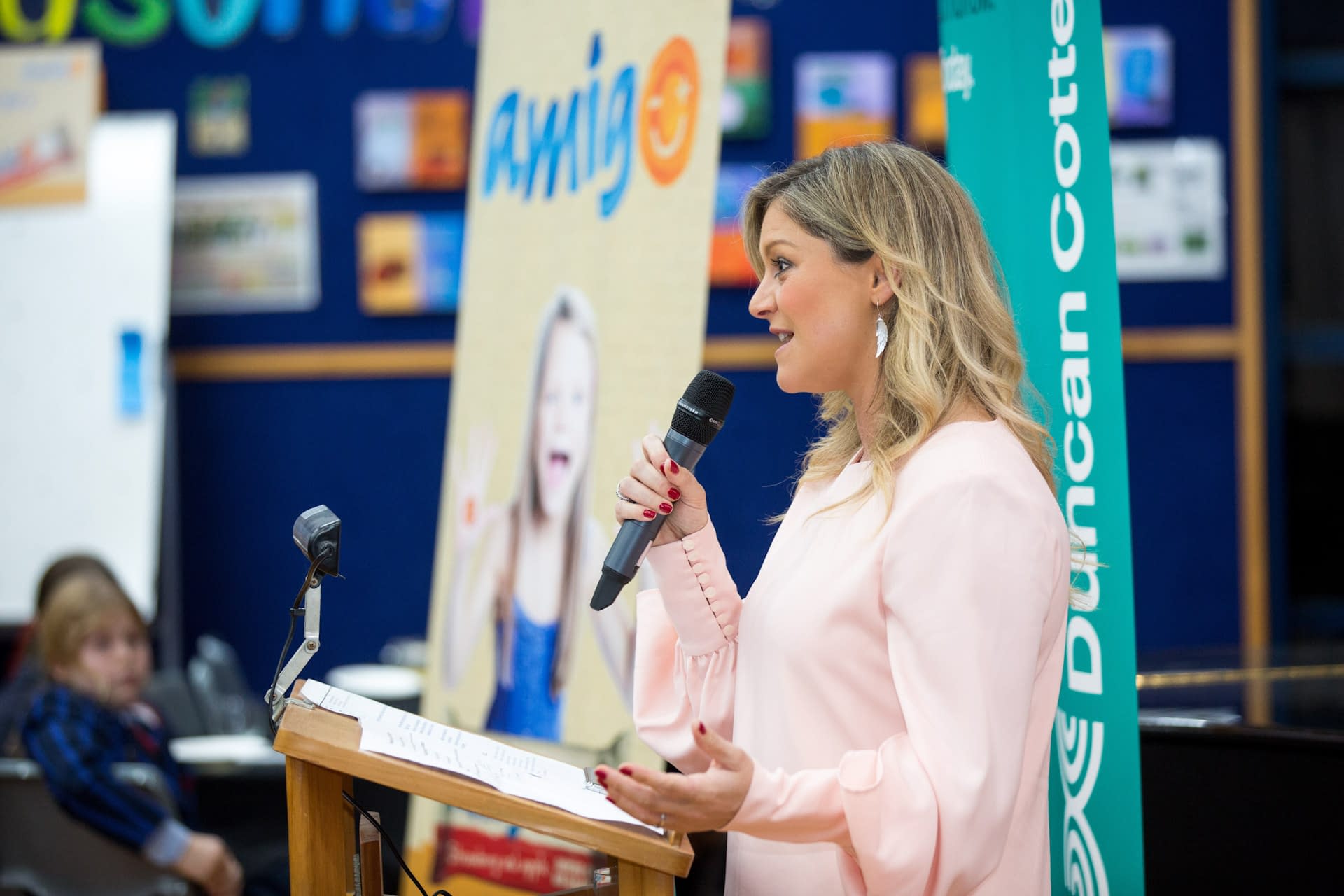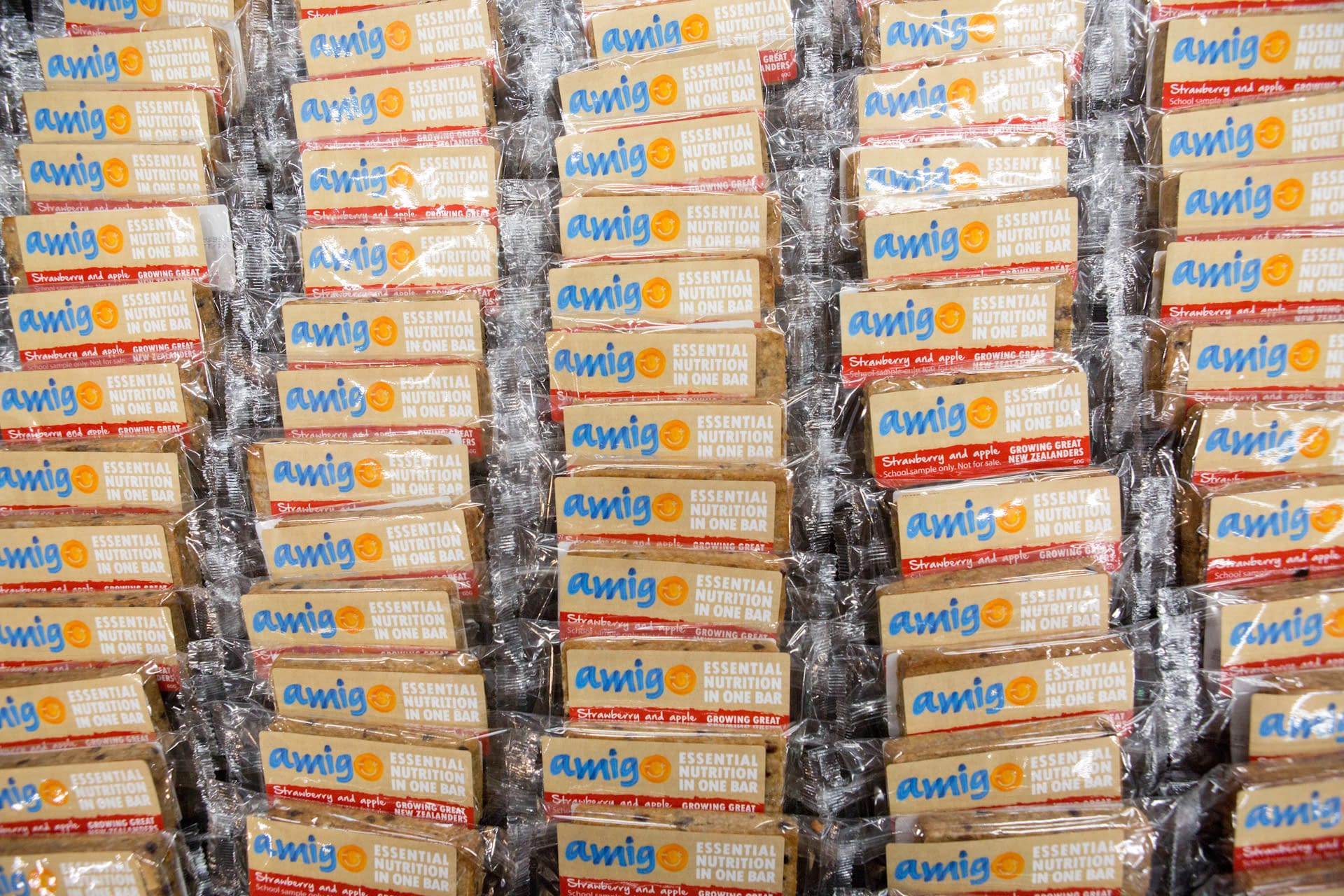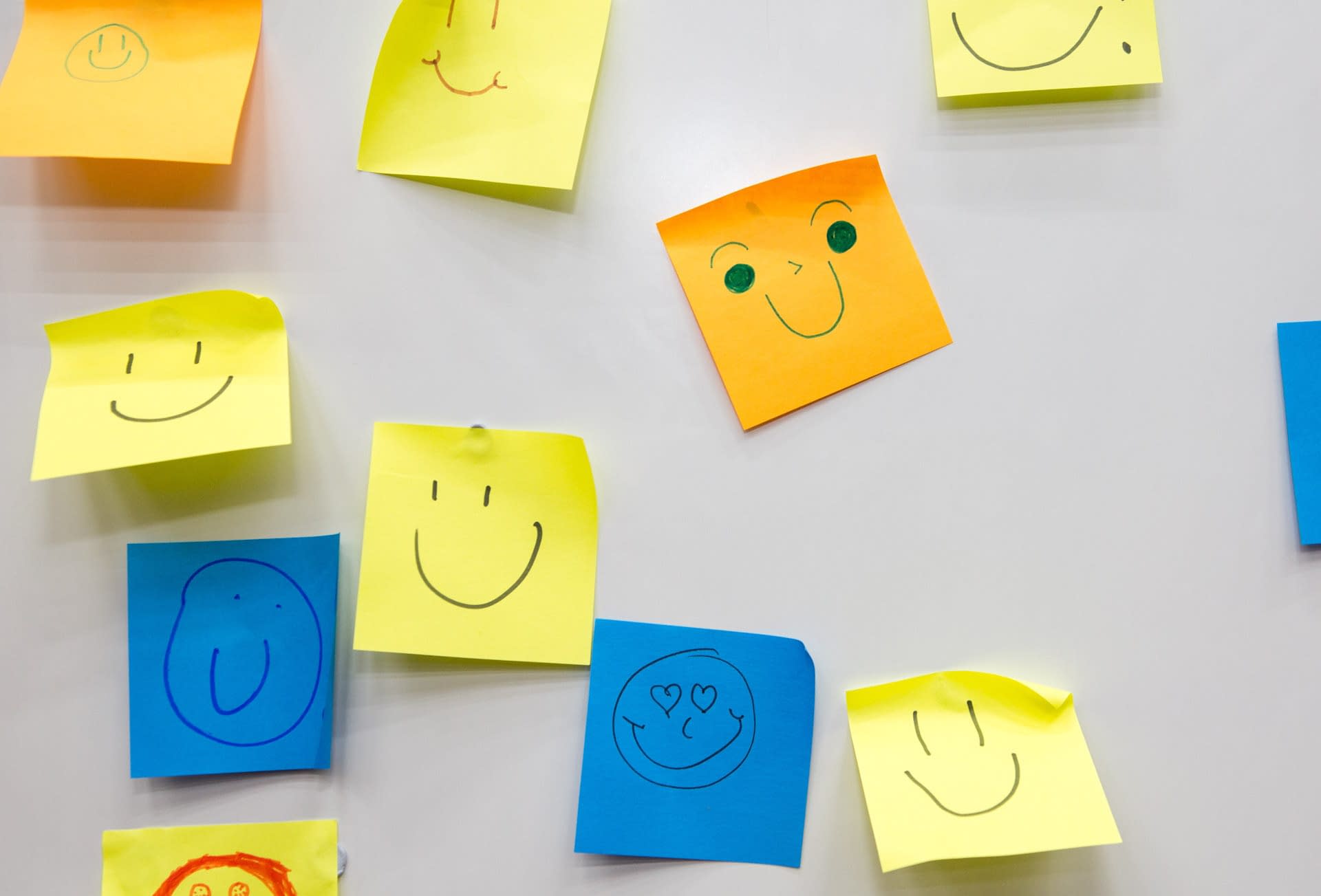 The New Zealand Amigo School Nutrition Program was launched at the
Diocesan School for Girls

on Thursday, 27th June.
Sir Ray Avery said, "It's very appropriate that the Amigo School Nutrition Program be launched at a school because school children across New Zealand, Asia and Africa have been responsible for designing every stage of the development of the Amigo Bars including choosing the Amigo brand name, logo design and marketing materials.
School children in New Zealand selected the top Amigo Bar flavour options they liked from a starting list of fifty flavours.
Got more questions? We'd be happy to answer!
Sir Ray Avery GNZM
Grande Amigo
Mike Robinson
Chief Creativo
Amelia Avery
Assessor Tecnico Amigo
Peter Lehrke
El Concinero Amigo
Andrew Sinclair
Tecnico Amigo
Cathy McArdle
Verifocator Amigo
Richard Conway
Optimo Amigo
Xanthe Sulzberger
Chief Nino Amigo