The Amigo School Nutrition Program was
launched in June 2019
Thanks to the generosity of the Ted Manson Foundation we were able to supply hundreds of Amigo Bars and Amigo Nutrition Educational Packs to Diocesan School for Girls to help improve nutritional awareness and help educate New Zealand children on maintaining good nutritional choices.
But this was just the beginning of our journey.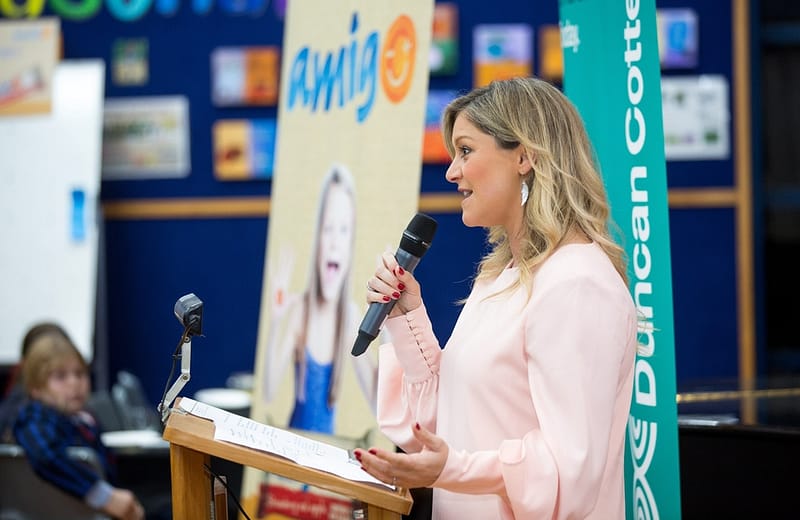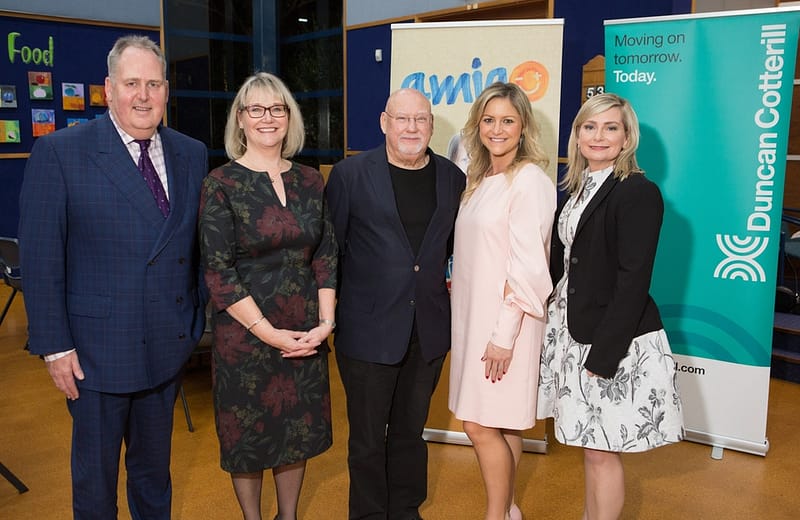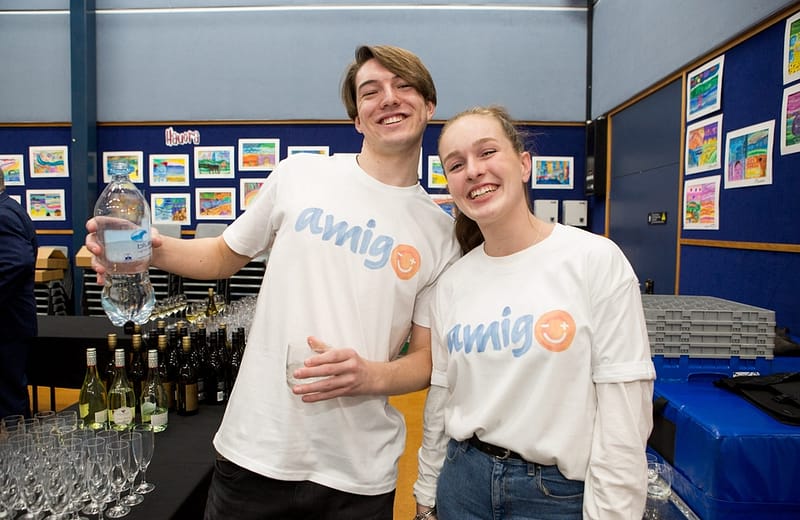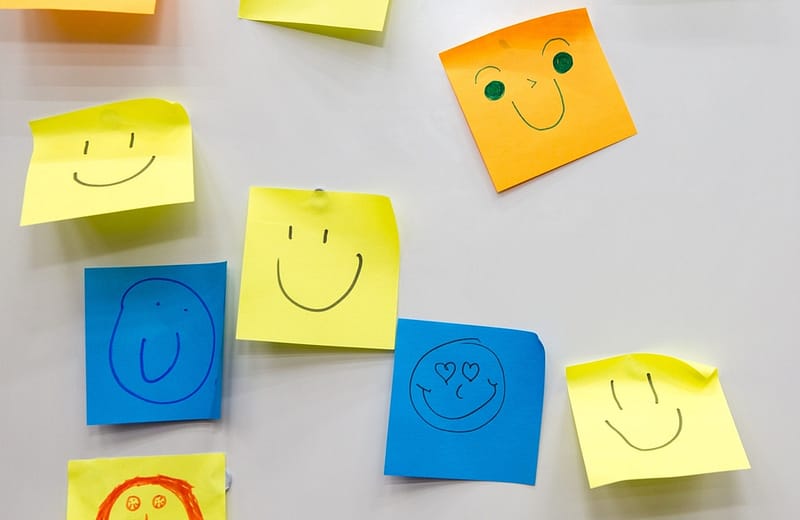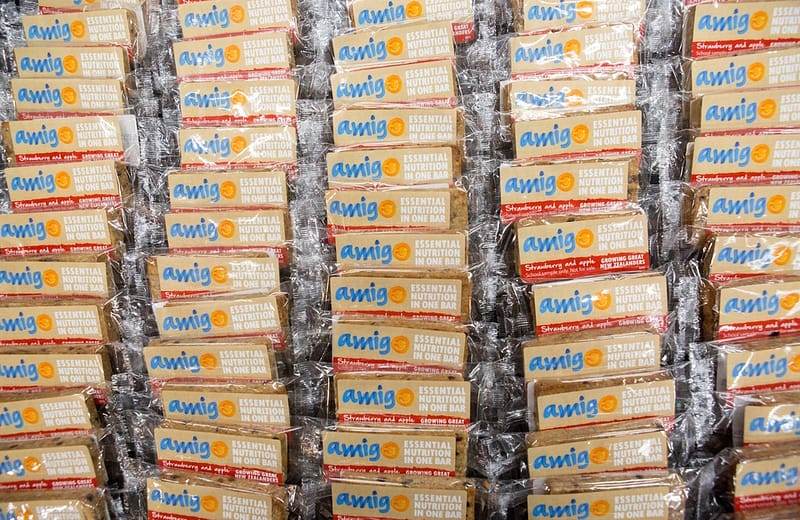 Numerous studies have demonstrated
a link between poor nutrition and learning.
These studies have also shown that children's mood, cognitive and memory skills are compromised if they don't have the correct level of amino acids to support healthy development. Every parent knows that if their children are hungry, they get 'hangry'. However, it's very difficult to deliver the optimum nutritional meal, balanced 'en mass' at an economically sustainable price.
Nutritionally balanced meals should comprise of a mixture of portions of fruit, carbohydrates, fibre and low-fat proteins which contain all the amino acids, vitamins and minerals to promote healthy growth and development. Two of the hidden problems facing parents is that children don't like healthy foods, and the foods they like are often nutritionally limited. Not only this, It's also strategically impossible to supply children with school lunches during the school holidays.
174,000

New Zealand children live in food-insecure households.
We talked with children across New Zealand, getting their input
each step of the way
The Amigo Bar contains all the amino acids, vitamins and minerals to support healthy development. The 40g bars are nutritionally dense and satisfying, providing instant and sustainable energy through the school day.
New Zealand's first

five star rated

food bar

supplying essential nutrients that may be missing from a child's diet
As well as being tasty, it's also

tooth-friendly!

This is achieved by using sugar alternatives derived from sugar beet.
Founder of Eat My Lunch, Lisa King, noted a
decline in children's health and nutrition

during the holidays due to no access to healthy school lunches
So, we created the Amigo School Nutrition Pack. This pack is a way to combat the decline of children's health during the school holidays by providing them with a supply of Amigo Bars to bridge the gap, as well as educational material around nutrition to help them make better food choices while away from school.
We have partnered with Eat My Lunch to help us deliver these packs for kids to take home during the school holidays.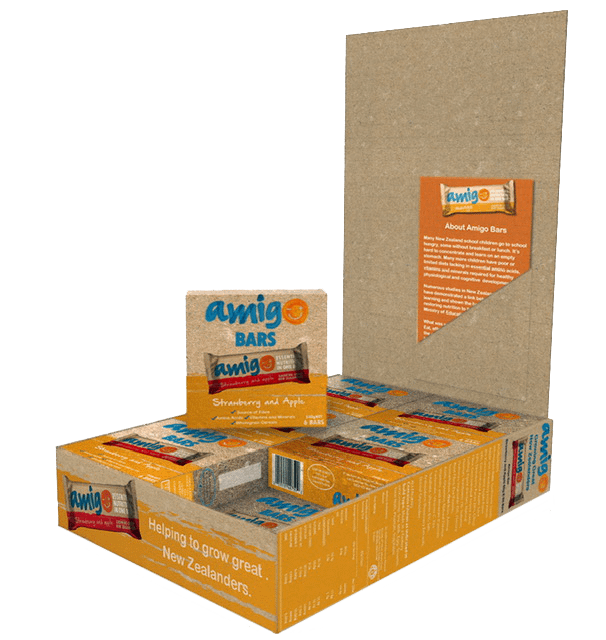 Since launching, we've received fantastic feedback about the
positive impacts Amigo Bars are having on school children

across New Zealand!
Patrick
recommends Amigo Nutrition Bars
Mangere College cohort thoroughly enjoyed testing these Amigo bars! Great fruity flavour, not too sweet, we loved that they were filling and nutritious but still yummy. The little fruit pieces in the bars are a nice textural component too. Highly recommend!
Kaz
recommends Amigo Nutrition Bars
It's a mission trying to find something with nutrition that Trampas will eat. Having autism makes him rather fussy eater and he needs additional nutrition. The amigo bar works well in the car glove box.
Simone
recommends Amigo Nutrition Bars
Delicious and nutritious!
Mark
recommends Amigo Nutrition Bars
Great idea to provide a healthy supplement food for our hungry kids.
But there are still
more schools across New Zealand


that could benefit from Amigo Bars
"We have a growing number of children who live in poverty and come to school without adequate food to sustain them through the school day. I would love to receive 80 Amigo Bars a week; it would be a great start for us."
"We would appreciate 50 Amigo Bars a week as we have families who struggle to feed their children everyday."
"My name is Sally and I am in charge of school lunches. We have about 20 children who come to school daily without lunch and they would benefit from these delicious, healthy Amigo Bars."
We're calling on you

to help us get
Amigo Bars to children in need across New Zealand
Got more questions? We'd be happy to answer!